Product Description
Bonded Rubber Trails
With a natural appearance, this seamless, porous, one-layer system provides a long-lasting and durable pathway.
Bonded rubber is an excellent choice for a natural look with the benefits of a unitary surface. Bonded rubber characteristics allow for piling and sloping, helping to create a natural setting with inclusive benefits.
About Our Product
Rubber Designs Rubber Trails is a 100% Recycled Rubber Safety Surface that is designed to offer pedestrians and joggers a low-impact, good traction, shock absorbing, and firm but resilient rubber surface. The poured, seamless system provides a safer and attractive option for trail and pathway systems that will beautify our parks and recreation centers, schools, and public facilities. The surface is also durable enough for strollers, wheelchairs, bicycles, and light duty vehicles. The tensile strength properties provide long-term durability and the rubber is from refined, recycled tires that is free of metal. These materials are pigmented to replicate the appearance of a natural walking trail. Rubber Designs Rubber Trails will provide a more comfortable walking surface compared to traditional walking surfaces
Features:
Natural look is great for nature themed spaces or
walkways
Will meet accessibility standards set forth by ADA
guidelines
Requires minimal routine maintenance
Single layer system consists of recycled shredded
rubber and a basic, single component binder
Wide range of natural looking color selection to meet
your desired aesthetic - refer to color chart for options
Installed over concrete, asphalt or compacted stone for
best performance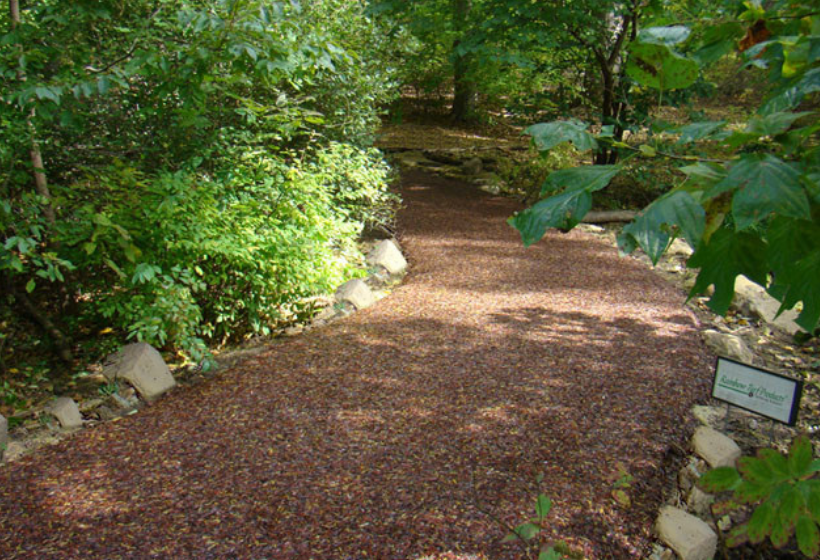 Product Details
Bonded Rubber Trails
Learn more about our Bonded Rubber Trails.
Product Information
Origin: Made in the USA from recycled rubber tires and specified binder
Recommended Uses: Use with any of our Poured-In-Place applications, Recycled Rubber Mulch, and in areas where safety surfacing is is being displaced and in high traffic areas.
Want To Reference This Page Later?
Enter your email to send yourself or someone else a copy!