Product Description
Interlocking Rubber Tiles
Our rubber flooring products are aesthetically pleasing and durable for all types of play and activity.
Interlocking rubber tiles are designed for playground and recreational use. Our rubber tiles are equipped with a built-in alignment foot which allows for precise installation. The locking mechanism runs the entire perimeter to provide a more secure installation and will help minimize any curling or tile separation.
About Our Product
Our interlocking rubber tiles are available in varying thicknesses to meet critical fall heights up to 10 feet. Complete systems will include ADA accessible ramps, corner tiles, edges, and connectors. The rubber tiles are available in colored standard buffing top or Gezolan EPDM topped tiles. Refer to our color mixer for a complete list of options.
Interlocking rubber tiles are often considered a great choice for recreational flooring due to several key benefits they offer. Here are some reasons why interlocking rubber tiles are popular for recreational flooring:
Easy Installation - Interlocking rubber tiles are designed to fit together seamlessly. They have interlocking edges that allow for quick and straightforward installation. This makes them a convenient option for recreational areas where rapid installation is desired.

Durability - Rubber tiles are known for their exceptional durability. They can withstand heavy foot traffic, impacts, and constant use without showing signs of wear and tear. This durability makes them ideal for high-traffic recreational areas such as playgrounds or outdoor gyms.

Impact Absorption - Rubber tiles have inherent shock-absorbing properties. When used as safety surfacing, they provide excellent cushioning and impact absorption. This makes them suitable for areas where falls or impacts are common, such as children's play areas or fitness spaces where people engage in high-impact activities.

Versatility - Interlocking rubber tiles come in a variety of colors, thicknesses, and designs, allowing for customization to match the aesthetic requirements of different recreational spaces. They can be easily replaced or rearranged if necessary, providing flexibility in design and layout options.
Rubber Designs is a partner distributor for Gezolan EPDM materials. Our Interlocking Tiles with EPDM Top are manufactured with Gezoflex EPDM rubber granules from Gezolan.
WARRANTY - Purchase with confidence. Rubber Designs stands behind our promise to deliver products that are better for the earth and better for you. This means our products are made to last and are guaranteed by the best warranty in the industry. This Rubber Designs Product is backed by a 10 Year Limited Warranty.
Learn more about why our rubber tiles make great flooring for playgrounds by reading our blog: Top 5 Reasons Rubber Tiles are Perfect for Playgrounds.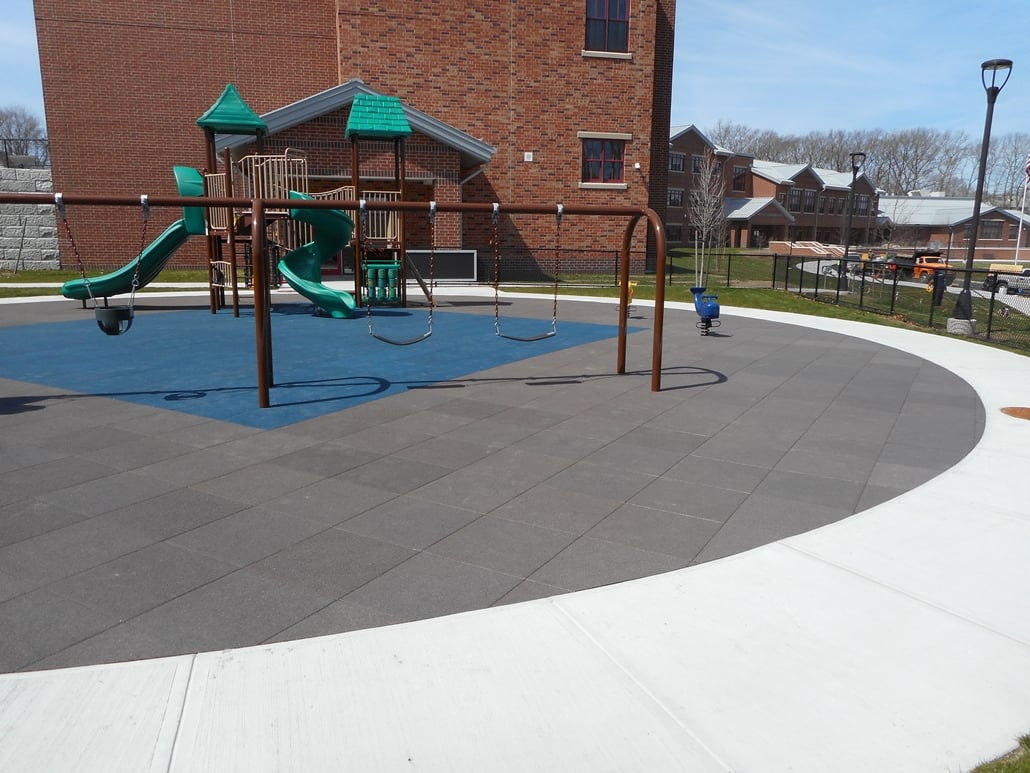 Product Details
Interlocking Rubber Tiles by Rubber Designs
Learn more about our interlocking rubber tiles used as playground tile or safety surfacing for outdoor gyms.
Product Information
Measurement: 23-13/16 x 23-13/16"; depth depending on fall height requirements:
• 2.25" - 4' fall - 26 lbs
• 2.75" - 6' fall - 29 lbs
• 3.25" - 8' fall - 31 lbs
• 4.25" - 10' fall - 39 lbs


Origin: Made in the USA
Recommended Uses: Use on playgrounds where safety surface is required and any high traffic areas that require durability.
Want To Reference This Page Later?
Enter your email to send yourself or someone else a copy!